Year 4
YEAR 2 2017-2018
YEAR 2 TRIP TO YORKSHIRE WILDLIFE PARK - 8TH JUNE
On Friday, Year 2 had a fabulous day out at Yorkshire Wildlife Park. They saw lots of animals and learned lots of facts about them, they even got to hold some!
"I enjoyed it because it was very educational. My favourite part was meeting the giant hissing cockroach - we even got to hold it!"
Grace
"The trip was really fun. My favourite animal was the giant otter because it squeaked at us!"
Isabelle
Year 2 trip to YWP from Windmill C of E Primary on Vimeo.
YEAR 2 AFRICAN DANCE & DRUMMING WORKSHOP - 5TH JUNE
Last week, Year 2 had a visit from Mighty Zulu Nation to support their Topic work on Africa.
In the African Dance & Drumming Workshop, the children were taught an African dance and song, created some pieces of art and even gave a performance to parents.
"It was loud but I enjoyed it. My favourite part was when they did front flips." Euan
"It was really fun, I like the bit when it got loud." Emilia
Year 2 African Dance & Drumming Workshop from Windmill C of E Primary on Vimeo.
YEAR 2 TRIP TO MANCHESTER AIRPORT'S VISITOR CENTRE - 6TH MARCH 2018
As part of their Topic work this term, Year 2 went to Manchester Airport's Visitor Centre yesterday to enhance their learning. The children learnt about the workings of a plane and the different jobs related to working with aircraft. They also saw some aeroplanes taking off and landing - what an exciting day!
"Our trip to Manchester Airport was fun because we got to see the Concorde!"
Binyaamin
"Today was awesome, it was EPIC! We got to see inside a plane!"
Hassan
"Our school trip was amazing because we went inside a shiny aeroplane."
Gracie
Year 2 Manchester Airport from Windmill C of E Primary on Vimeo.
TOPIC DAY 20TH OCTOBER
Yesterday, Year 2 got very muddy as part of their Topic work for this half term. They made bird feeders, created junk models and even did some gardening to help improve and look after our local environment.
"The day was fantastic, my favourite part was making a bird feeder. I also liked digging a hole for the new vegetable patch. It was hard work and we got wet but we dried off later in the day."
Aimee, 2W
"I enjoyed making the bug hotel. We went on a nature walk to collect leaves and twigs, then we cut the top and bottom off a juice carton and stuffed it with leaves and twigs for bugs to live in. We all got really muddy and it was really fun."
Isaac S, 2P
Year 2 Topic Day from Windmill C of E Primary on Vimeo.
YEAR 1 2016-2017
YEAR 1 PIRATE DAY - 4TH JULY
'When Captain Dan Tastic came to school we played some pirate games and also listened to pirate stories. We looked at pirate ships too. My favourite part of the day was when Captain Dan sat in a hammock! He left us some treasure for the next day, it was a diamond and everybody got one! I had a really really really good day!'
By Isaac, 1MH
Year 1 Pirate Day from Windmill C of E Primary on Vimeo.
MOBILE PLANETARIUM
On Tuesday 25th April, Polestar the mobile planetarium visited Year 1. The children learned lots of facts about space and were inspired to create their own constellations.
1MH CLASS ASSEMBLY - 5TH APRIL
Class 1MH (England) presented their class assembly to their parents and the whole of KS1. The children really enjoyed showing what they have been learning, here's what they had to say about it.
"I LOVED TRACTION MAN SO MUCH THAT I MADE HIM OUT OF AN EGG FOR THE EASTER COMPETITION!"
ISAAC S
"WE DID OUR ASSEMBLY TODAY, I LIKED TELLING THE GROWN UP'S ABOUT TRACTION MAN AND ALL WE HAVE LEARNT."
BINYAAMIN
"I LOVED LEARNING ABOUT SHADOWS AND FELT PROUD TELLING MY MUM ABOUT IT". ALI
"WE KNOW SOME BRILLIANT ADJECTIVES NOW." MUSA
"I AM PROUD OF MY LEARNING." EVAN

1MH Assembly from Windmill C of E Primary on Vimeo.
YEAR 1 TOY WORKSHOP 30TH MARCH
On Thursday Year 1 held a workshop for parents where we enjoyed playing with toys old and new! Thank you parents for attending, we had a high turn out and 100% of parents strongly agreed that they had enjoyed the workshop.
Some parent comments included:
"THAT WAS BRILLIANT, WHEN CAN WE DO IT AGAIN?"
"LOVELY TO SPEND TIME WITH MY CHILD 1:1 IN SCHOOL."
Children also very much enjoyed the session, they had the opportunity to play board games with their friends, enter into a bowling competition on the Wii, and use toys that parents and grandparents used to enjoy playing with years ago, many of which are still popular today.
Year 1 Toy Workshop from Windmill C of E Primary on Vimeo.
SING UP 2017
On the 24th March, the whole school participated in Sing Up 2017. Each year group helped to spread a little singing around the world by performing their own song.
Year 1 were brilliant and sang 'This Little Light Of Mine'. Have a listen to them sing by clicking on the year group photo below.
Year 1 Sing Up from Windmill C of E Primary on Vimeo.
YEAR

1 TRIP TO NELL BANK
On Tuesday 1st November Year 1 went on an exciting Gruffalo Hunt to Nell Bank!
"We looked for a mouse, a fox, an owl, a snake and a gruffalo - we found them all! We had to look for their friends too, it was hard because some of them were hidden and camouflaged. We found a lion called Rio and a yellow duck."
By Ben
"We made some gruffalo crumble in the woods. We found some leaves, some purple prickles and Rob even found a green wart behind Isaac's ear, we had to mix all the ingredients up. Then we put some nuts on top to make it even tastier."
By Liam & Olive
RECEPTION 2015-2016
Welcome to our Reception!

The children have all settled in extremely well and are enjoying exploring their new classroom and outdoor environment. Below are some pictures of them using the different areas of provision.
Our learning challenge this first half term has been 'Ourselves'. We have been thinking about how we have changed since we were babies and the things we can do now as we are growing up. We have also been thinking about our families and pets. Below are some pictures of recent work we have completed linked to our topic.
In maths we have been exploring numicon, singing number rhymes, counting objects, recognising numbers and practising forming our numbers.
'People Who Help Us'
We really enjoyed our focus on different people who help us within our community. We were very excited when the local police visited our school. We learnt about the role of a police officer and the uniform they wear. We even experienced sitting in their patrol car and pressing the sirens. Also, as part of our topic, we had a visit from the school Nurse and learnt about all the different aspects to her role. We were able to ask her questions and looked at some of the equipment that she uses. We then got the opportunity throughout the week to dress up as police officers, firefighters, nurses and doctors and role play pretending to be them.
Baking
We have started baking in Reception every Thursday and we are really enjoying it. Each week a different group of children follow a recipe and bake something and we all take some home on the Friday to taste it. So far we have made parkin, flapjack and superhero buns and they have all been delicious!
Friday 13th November - Children In Need 'Crazy Hair Day'
We loved coming to school with crazy hair to raise lots of money!
Friday 20th November - Superheroes Day
Our theme this week has been 'Superheroes'. In our English lessons we have been describing different superheroes and looking at what special powers they have. We have really enjoyed reading a book called 'Super Daisy' so we put some actions together for the story and made a story map. We have made superhero masks, designed our own superheroes and attempted to write their name. At the end of the week we came to school dressed as a superhero!
10th & 11th December 2015 - Christmas Nativity
The children in Reception did two amazing performances of our Christmas Nativity, 'Mary's Knitting'. They each had a part to play in it and they all did a fantastic job! All the grown ups in Reception were extremely proud of them and I'm sure parents and other family members were too! We did lots of practise for it and really enjoyed learning and singing the songs.
March 2016 - 'Bears'
We have really enjoyed our 'Bears' topic! Following our trip to Nell Bank where we went on a bear hunt we have focussed on the 'We're Going On A Bear Hunt' story and 'Goldilocks and the Three Bears'. We have done some fantastic writing linked to these stories and lots of this writing has been completed independently. The children have loved role playing and acting out the stories and they have made their own bear and Goldilocks masks to support their role play. In the outdoor area the children have made dens to hide in from the bear and bear caves.
During our cooking lesson we made and tried some porridge which most of the children enjoyed.
In maths the children have been learning to tell the time and explored capacity. They have also been adding and finding out number bonds to 10.
Chicks - 16th March 2016
The children have had a very exciting few days! They have observed 12 eggs hatch into little fluffy chicks.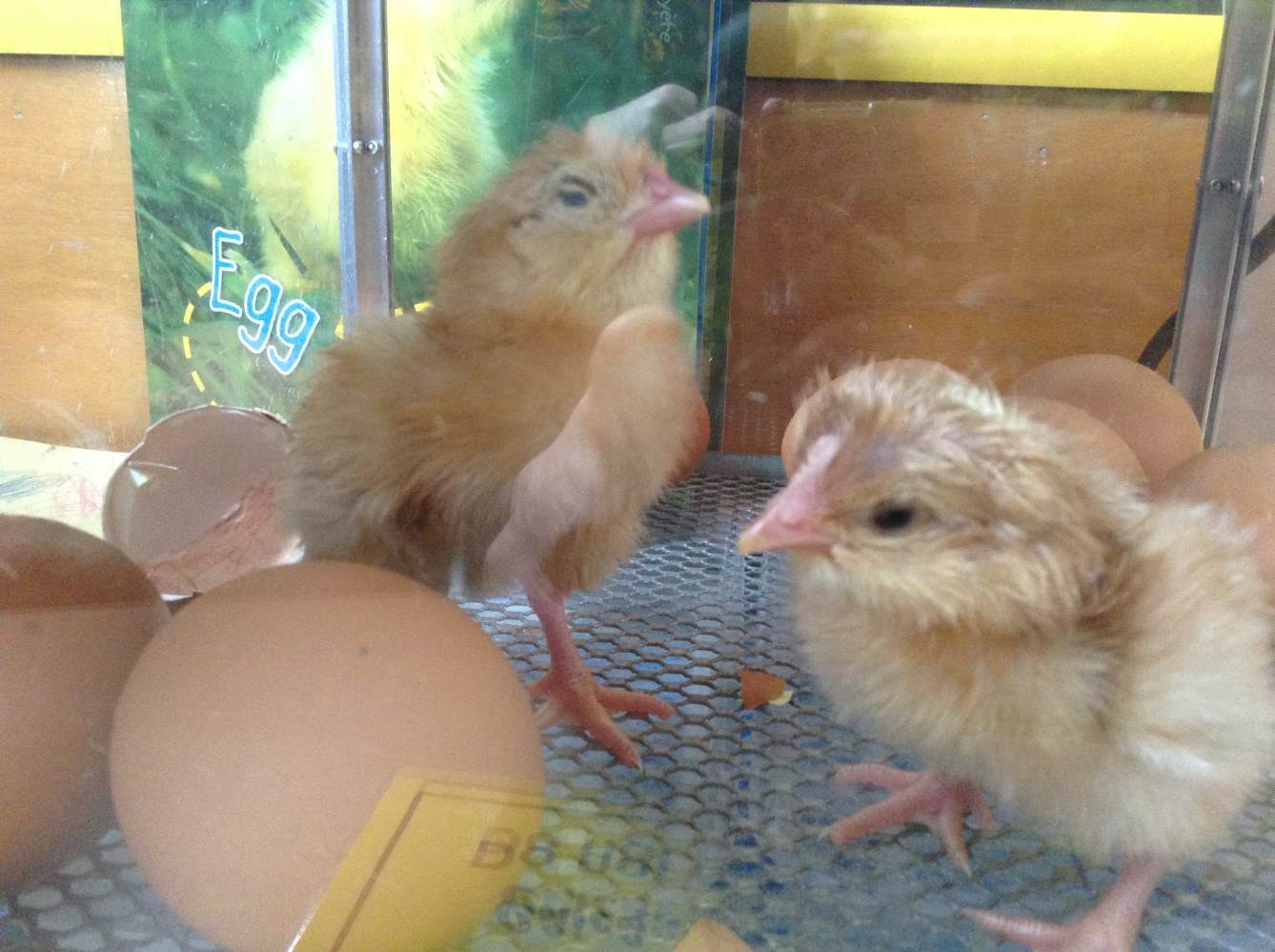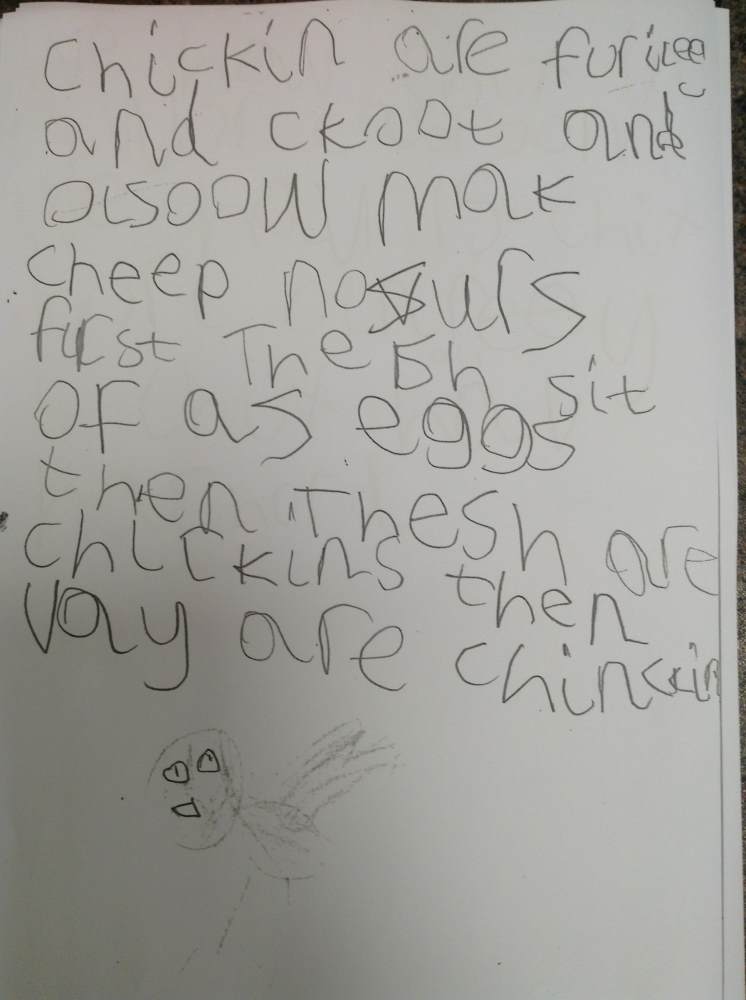 DEN BUILDING
On Tuesday 12th January, our Reception children and their parents braved the cold weather to take part in our Den Making Event. As part of this terms topic 'Houses and Homes', the Den Experiment offered an engaging and motivating experience for both the children and their parents. As you can see from the video below, lots of fun was had by all and some fantastic dens were created - well done Reception!
VISIT TO NELL BANK -FEBRUARY 2016
The children and staff had the most amazing time on their trip to Nell Bank in Ilkley. They experienced going on a bear hunt in the woods whilst role playing the story 'We're going on a Bear Hunt'. We found bear footprints and followed them to Brucie Bear's willow cave. He showed us where all his Nellbanian Bear friends sleep at night and together the children used natural materials to design and build homes for their bears to live. The rest of the day the children spent time exploring the wildlife living at Nell Bank through Minibeast hunting and pond dipping. To end the day we all visited the amazing water play area.
Reception Visit to Nell Bank from Windmill C of E Primary on Vimeo.
PURDEY RETELLS THE STORY OF THE THREE LITTLE PIGS - MARCH 2016
Three Little Pigs from Windmill C of E Primary on Vimeo.
RECEPTION ASSEMBLY
The Reception children thoroughly enjoyed their class assembly on Wednesday 25th May. The assembly started with the children sharing with the parents all they have learnt about mini-beast and plants. They started the assembly by singing the song 'Spring is Here' followed by retelling the story of 'The Very Hungry Caterpillar'. The children then described some of the mini-beasts that we had found previously in our garden allowing the parents to guess which ones were being described. A big thank you to all the parents that attended we really appreciate your continued support. We hope you enjoyed the biscuits.
PICNIC IN THE PARK
On Monday 20th June Reception walked down to Wilton Park for a picnic. We followed some instructions we had written to make our own sandwiches and then packed our own lunch bags. We enjoyed a picnic on the grass and fed the ducks on our way to the playground. We spent some time playing in the playground and had just enough energy to walk back up to school. The sun came out for us and we had a fantastic time!
TRIP TO KIRKLEES LIGHT RAILWAY
On 23rd June, the children went on a trip to Kirklees Light Railway as part of the topic 'Journeys'. The children visited the engine sheds and learnt how steam trains work and what happens when they need fixing. They then took a short ride on a steam train to Shelley Station taking in the lovely views and traveling through tunnels and over bridges. At Shelley Station the children had a picnic on the grass and burnt off some energy in the park playing bat and ball in the field. Before returning back on the train the children cooled down with an ice-cream in the sun. The children and staff had a very enjoyable day and even the sun stayed out all day for us.
RECEPTION GRADUATION - 18TH JULY
All the children graduated this week from Reception after completing a very successful year. The Reception team were very emotional saying their goodbyes but also feel proud and privileged to have taught such fantastic children. We wish them all the best as they continue their journey through Windmill. A BIG thank you to all the parents that came to watch.
Happy holidays everyone.