Mugango Primary School - our link school in Tanzania
Windmill C of E Primary is proudly linked with Mugango Primary School.
Mrs Thompson visited Tanzania in February 2017 – she visited Mugango Primary School to set up a link between our school here and theirs in Tanzania.
To see more from her trip you can watch the video below or or read her journey from this blog by clicking here.
Tanzania 2017 from Windmill C of E Primary on Vimeo.
Since the visit in February, Windmill C of E Primary have learnt all about life in Tanzania from the homes they live in to the food they eat, what subjects the children do, what their school is like and what the country is like. We have had a 'Teach like Tanzania Day' where the school tried to experience what school life is like for children in Tanzania. The teachers were not allowed to use their computers and had to teach 60 children at once! We created art work inspired by fabrics brought back from Tanzania and by the animals that live in the Serengeti.
Look at the video below to see photos from the day……
Teach like Tanzania Movie from Windmill C of E Primary on Vimeo.
July 2017
In July, Arthur and Melina (people who looked after Mrs Thompson in Tanzania and help with the link schools) visited England and came to see our school. Arthur and Melina were so impressed with our councils and Head Boy & Girls that they wanted to introduce them to the schools in Tanzania. Every class showcased some learning to Arthur and Melina; have a look at this work below:
Year 2 performed African dancing and drumming and questioned Arthur and Melina about life in Tanzania to support their topic of 'Where would you rather live? England or Tanzania?'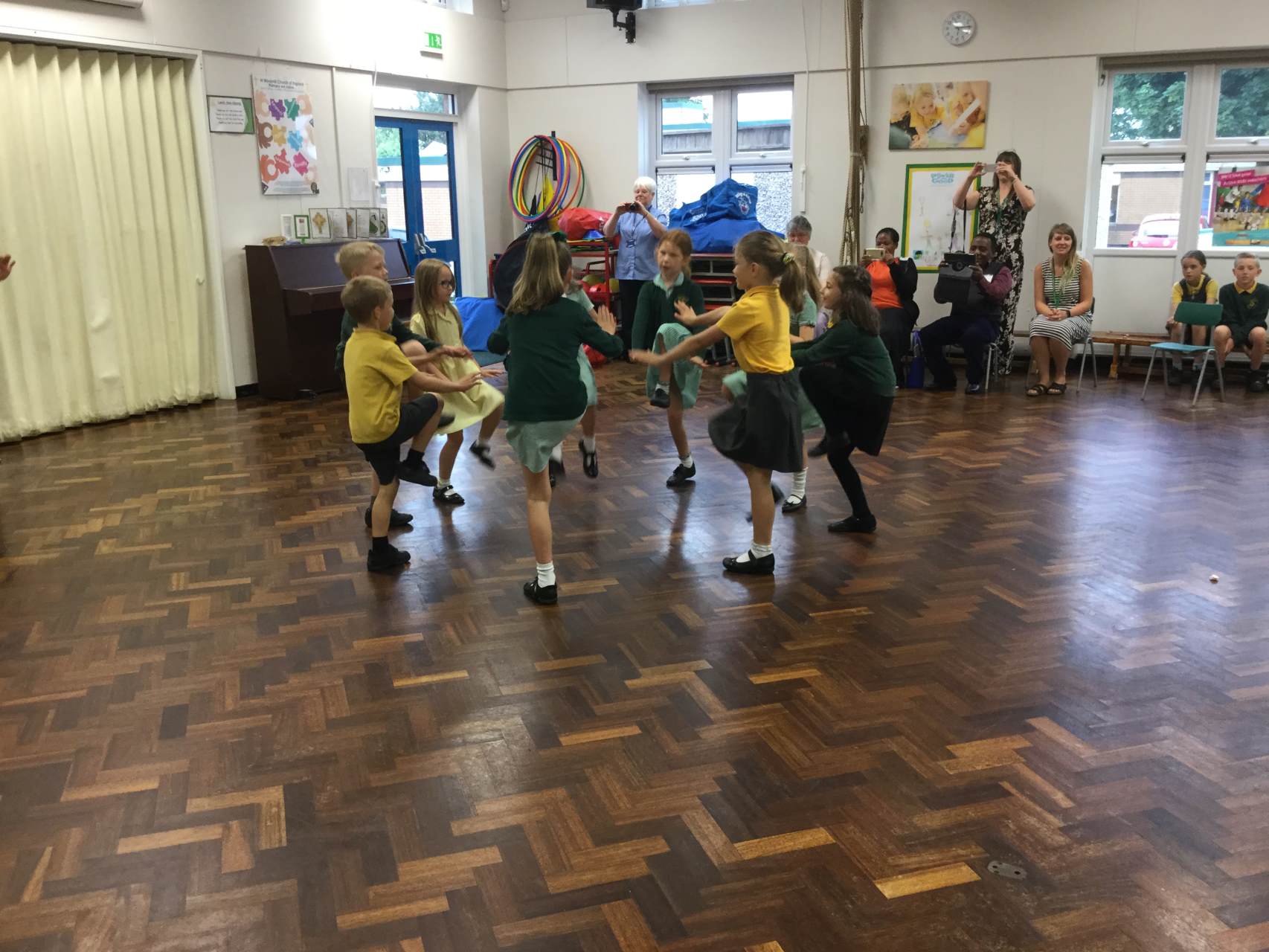 They also brought news with them from Tanzania. Here are the photos and letters which the Tanzania council are working on responding at the moment.
In September 2017, a Tanzania school council has been created to work with Mrs Thompson and Mrs Mann to consider how we can support our link school in Tanzania. They will help think of fundraising ideas to help our link school in building a new classroom. As well as this, they will help communicate what is happening in our school with Mugango and to share information about our link school when we receive it from Arthur and Melina.
Look at our twitter page to see what the group is up to….. https://twitter.com/WCOFEPupils
In October of this year, Gill Johnson from the Diocese of Leeds and West Yorkshire came to visit us in school to give us an update on how Mugango Primary is getting on. She read out an email from Melina, who says they have a new headteacher. Her name is Rustika Kiraka and she is very excited about her school's link with Windmill. Melina explained that the community local to the school have been helping to build a classroom and a library for the pupils, and that these just need a roof and plastering for them to be ready for the children.
We are going to email them over the next couple of weeks, and eagerly await their reply.
1st May 2018
On the 1st of May we had another Teach like Tanzania Day to remember our link with Mugango Primary School. We had no electricity, 60+ pupils in one class, Swahili lessons, ugali tasting, African dance classes and much more happening across school.
We started the day with a whole school collective worship led by the Tanzania Council and were visited by Reverend Lesley and Laurie, a member of the congregation who had been to Mara, the same area of Tanzania that Mrs Thompson visited.
The assembly was opened and closed by Y5 singing the 'Jambo' song which they then teamed up with their year group partners in Y3 to teach them the actions to the song. They ventured outside to do a group performance of the song in the sunshine.
After being taught maths and Swahili as a whole year group, Y4 joined their year group partners in Y2 to create African masks and bunting using handmade stamps.
Each year group was asked to create a new logo to represent our links using our school motto - Inspire, Believe, Achieve and Mugango's motto - Education is Light. Y6 and Y1 teamed up to create their logos. They also headed outside to try carry water just like the children in Tanzania have to do everyday.

Y4 and Y2 were lucky enough to be taught an African dance routine by Mrs Hartley, our dance club teacher. It was very energetic and great fun.
The children in Reception explored the Tanzanian flag and found Tanzania on maps. They also compared the schools using photographs from Mrs Thompson's visit.
Mrs Thompson made some 'ugali' which is the staple food for many in Tanzania. It is made from maize flour and water, it looks like mashed potato but a lot thicker. The children would eat this with beans or stew. Many children were brave enough to try it; it had very mixed reviews. Some children hated the taste of it and others were asking for more! Mrs Thompson reminded the children that this is all that is available to many people in Tanzania and we should be very grateful for our packed lunches and school dinners.
The children were invited to wear non uniform in the colours of Tanzania flag and bring a £1 donation, the money raised will be going towards Mugango's new library and classrooms.
The Tanzania Council will be choosing a winner of the school motto logo competition next week.
The Tanzania Logo
On Teach Like Tanzania Day, each year group was asked to create a new logo to represent our school links using our motto - Inspire, Believe, Achieve and Mugango's motto - Education is Light.
The Tanzania Council selected the winning design. It was really hard because they were all so good. We finally made the decision and picked a brilliant design by Isabelle in 6N and Milena in 1B.
By Chloe, 6N - Head of Tanzania Council
February 2019 - Mrs Wilson's Visit to Mugango
Mrs Wilson's Visit to Mugango
Mrs Wilson, our Y4 teacher, took an exciting trip to our link school, Mugango Primary, in the diocese of Mara in Tanzania over the half-term holiday. This is an important piece of work for our school; we use the link to help our children develop their understanding of the world and to encourage them to think of how they can be advocates for people less well off than themselves. Prior to the visit, our children raised money so that Mrs Wilson could take PE equipment with her. Children in Y4 also wrote instructions for some games that the children could play with the equipment. Mrs Wilson led a collective worship for children in Y1-Y6 this week and has written about her visit below.
"It seems an impossible task to sum up my thoughts about our trip. It was unforgettable, inspirational and has without a doubt changed me as a person. My lasting memory is smiling faces. Children who were beaming and full of excitement just to see us will be etched in my memory forever. When thinking about Mara, I can hear joyful music and see lively, spirited dancing. Arthur said it best when explaining, "Asking a Tanzanian child to sing without dancing is impossible. They would be dancing in their hearts."
Although it was clear that the schools were facing immense challenges, I was overcome by the dedication of staff and students alike. What moved us to tears had only made the staff work harder and the children become more ambitious. The visit to our link school will stay with me forever. I experienced a range of emotions; watching the reaction on the children's faces when gifts were exchanged, being dragged into a crowd of children and staff dancing and singing and taking part in sack races. This experience has renewed my enthusiasm to strengthen the link even further and has made me determined to convey the importance of the link to the rest of our team.
I feel incredibly privileged to have been given the opportunity to visit the Diocese of Mara and must also thank the rest of the group for their support, care and encouragement on the trip. I know I have made friends for life and could not have asked for a better group of people to share my journey with. I have every confidence that our combined enthusiasm will raise the profile of our link with Mara and maintain the superb relationship we are developing with our Tanzanian friends."