2018-2019
GOODBYE YEAR 6
We say goodbye to an amazing group of Year 6 children who will be going onto their new schools in September.
It has been our pleasure to have you all in our school.
Good luck for the future!
50TH ANNIVERSARY SUMMER GALA
The highlight of the year has to be our summer gala!
We held it as a special celebration of 50 years of education on our site, however, as so many people enjoyed the day, I am delighted to let you know the summer gala will be back next year, on Saturday June 13th 2020.
BATLEY BIG SING - MARCH 2019
"On the night we performed with other choirs for parents. We sang 'Believe', 'Rocking All over the World', 'This Little Light of Mine' and many more.
My personal favourite part of the night was listening to Batley Grammar School perform 'Jar of Hearts'. I highly recommend going to the Batley Big Sing because it is a great experience and each time is just as special as the first".
By Joshi
"On Wednesday 27th March, school choirs from around Batley took part in the Batley Big Sing. This is a concert where we all get together and sing 5 songs that we had been given to practice in school for the big day.
It was an amazing experience that we got to share with other schools".
By Lily,
Batley Big Sing 2019 from Windmill C of E Primary on Vimeo.
WORLD BOOK DAY MARCH 2019
Thanks to all our brilliant parents and family members for helping children prepare for a super World Book Day. It was brilliant to see everyone dressed up or in their PJs enjoying books together. A brilliant community effort.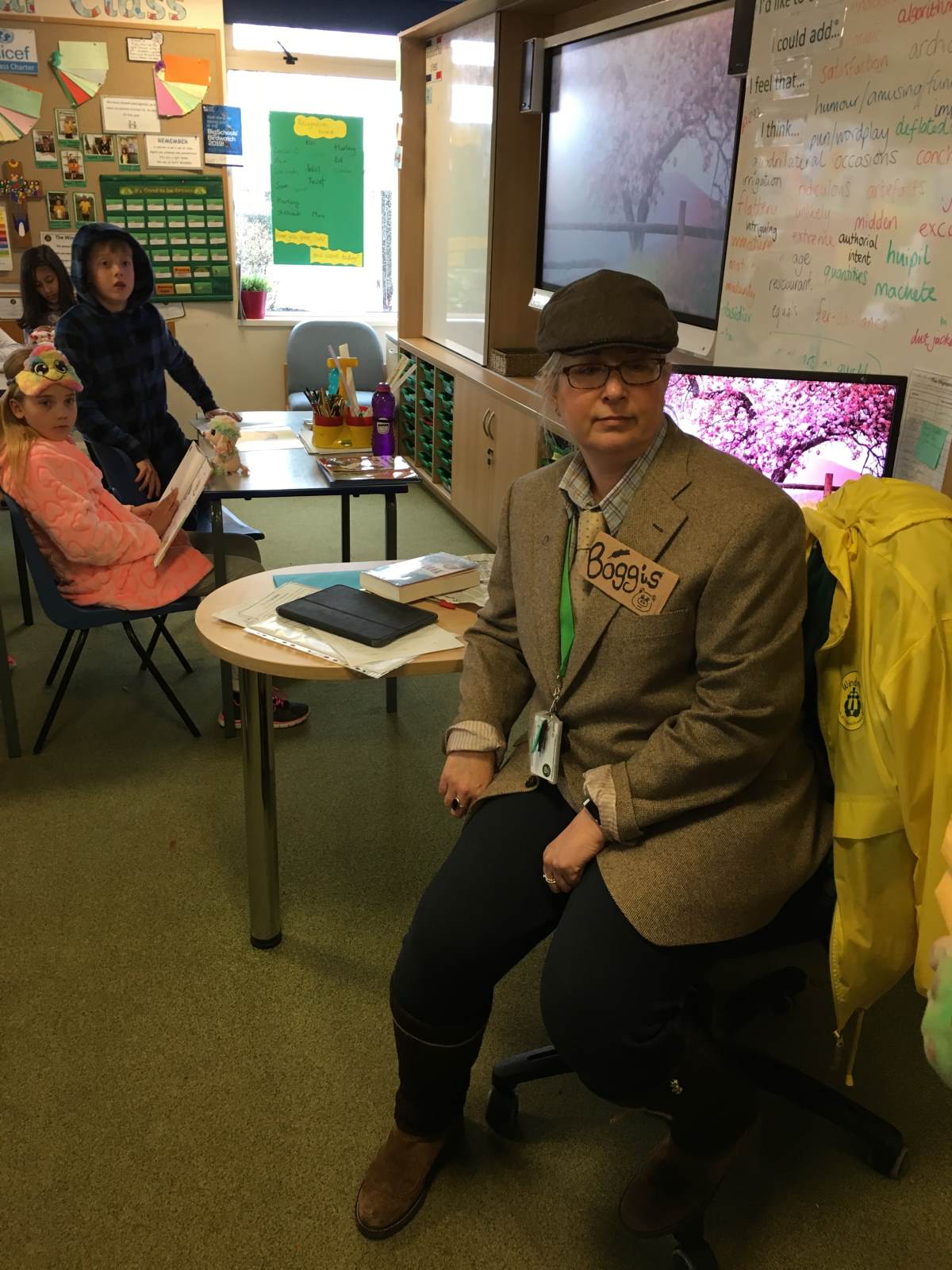 TT ROCKSTAR DAY - FEB 2019
Today we celebrated our knowledge of Times Tables by holding a TT Rockstar day.
Children dressed up as Rock Stars and competed against each other in a times table competition to win a ride in a stretch Hummer Limousine with their friends.
Well done to our Rock Legends 2019!!!
MEET THE MAYOR - JAN 2019
On Tuesday 22nd January some of our school leaders, along with the head boys and girls visited the Mayor of Kirklees at Batley Town Hall.
We discussed lots of interesting things such as how many councilors there are, how we can make school a better environment and we even found out that the Mayors mace cost £75.000!
We had a photo with the Mayor and her husband and then we took part in a quiz about Kirklees.
Everyone coming together was a big opportunity for us and we would like to thank the Mayor and the other Kirklees councilors for their time.
By Suleman, Lily and Grace
CHILDREN IN NEED 2018
It was lovely to see all the children and staff wearing their spots for Children in Need on Friday 15th November, We even had a visit from a very special bear.
Together we raised an amazing £401.50.
Thank you and well done.
SCHOOL COUNCIL VISIT TO BATLEY HALL NURSING & RESIDENTIAL HOME - NOVEMBER 2018
"On Monday 19th November the KS2 school council visited Batley Hall Nursing & Residential Home.
When we arrived we met some of the residents and were split into groups, some of us were reading, whilst the others played dominoes and connect 4.
The best bit of the visit was seeing the smiles on the resident's faces. We really enjoyed our visit and hope that the choir can come with us next time we go."
Evie, Head of School Council
REMEMBRANCE SERVICE 2018
Today, Year 6 children led a Remembrance Service outside by the reflection tree to remember the brave soldiers who fought for their country.
The service involved the children singing 'The Remembrance Song' and the recital of the poem 'In Flanders Fields',
Children from Year 5 and Year 6 made 100 poppies to celebrate the 100th anniversary since the First World War had finished. It was an honour to be able to lead the service.
By Saarah and Brooke
Remembrance Service 2018 from Windmill C of E Primary on Vimeo.
MACMILLAN COFFEE MORNING - 28TH SEPTEMBER 2018
Wow! We raised over £800 Well done everyone!
Thank you to everyone who came to our coffee morning today, it was lovely to see so many families coming together to help raise funds for this amazing charity.
It was a great community event – there were so many delicious cakes and buns donated – what a talented group of parents we have! Thank you so much to everyone who baked and/or came, it was wonderful to see both halls full of people.
"The children of Windmill all helped and were polite. Lots of buns to choose from. Well organised, well done!"
KS2 parent
"It was just perfect - I loved it!"
KS1 parent
Coffee Morning 2018 from Windmill C of E Primary on Vimeo.
SCHOOL COUNCIL VISIT TO LONDON - 10TH SEPTEMBER
On Monday 10th September 2018, the school council and Head boys and girls went to London to visit the Houses of Parliament. We caught a train from Leeds train station at 7:40am and arrived at Kings Cross station at 10:00am. Next we got a taxi to the Houses of Parliament.
When we arrived at Parliament, we all gazed at the river Thames. We entered Parliament and met our tour guide and walked up the stairs. We glanced at the decorative ceilings in awe as our tour guide directed us round the huge historic building. We wandered past the grand statues of famous faces. We got VIP access around the building and were told secrets about the Queen. We looked at the paintings of historic figures and entered the House of Lords and Commons. It was so exciting!
After our tour, we all did a workshop with Tracy Brabin where we imagined we had discovered a new island and needed some laws. There were 3 parties that had to make new laws and add how much tax the laws would cost. Then we voted for which party we wanted to be in charge of the island. After that, we counted the number of votes and the red team won. We then went outside to see famous landmarks like Big Ben and the London Eye before we got a taxi back to Kings Cross station and went back to Leeds.
The trip was very exciting and was many of the councillor's first time in London.
School Council London from Windmill C of E Primary on Vimeo.