2016-2017
DANCE CLUB PERFORMANCE - 4TH JULY
To mark the end of the Summer term, our after school dance club performed for their families this week. What a fabulous performance from all the children!
Thank you to the dance club and Mrs Hartley for all your hard work this year, we are looking forward to seeing more in September!
Dance Club Summer 2017 from Windmill C of E Primary on Vimeo.
YEAR 4 MISSION ACTIVE - 22ND JUNE
My favourite part of Mission Active was when my friends and I played football because I had a really fun time. I enjoyed passing the ball to my team mates. I loved playing tennis with a balloon because we had to use different body parts to catch the it. I enjoyed making new friends and playing sports with them. Overall, I had a brilliant time.
By Saarah, class 4T
KIRKLEES SWIMMING GALA - 17TH MAY
"Yesterday our school took part in the Kirklees Swimming Gala. I was really nervous. The beep went and I swam like a sailfish as people cheered and shouted. We did extremely well and ended up with many medals. Next stop the Olympics!"
By Lucy, 5DT
CROSS COUNTRY CHAMPIONSHIPS - 15TH MARCH
After our team successfully competed in the Kirklees cross country running finals back in October, they were invited to take part in the next stage of the West Yorkshire School Games Cross Country Championships at Temple Newsam on the 15th March. The boys had a brilliant day and represented our school wonderfully - well done!
"I really enjoyed the cross country race. It was 900 metres! We found it tricky but we tried our best and we made it! The best part was that Mrs Fisher rewarded us with an ice-cream!"
By Alfie 4B "I had the best day of my life! I was really excited but also terrified! We all tried our hardest. I am so proud of myself and the rest of the Y4 cross country team."
By Jake 4T
KIRKLEES FOOTBALL FINALS 8TH MARCH
The Year 5/6 boys played in the Kirklees Schools Football Finals on the 8th March. Eight other teams from schools across Kirklees participated in this event. Windmill managed to win 4, draw 2 and only lose 1 of their games. They played really well as a team, scored some great goals and even won a game 5-0! The boys may have even got enough points to qualify for the Leeds finals!
Well done to everyone who took part.
Click here to read the full sports report from the North Kirklees Schools Sports Partnership.
NETBALL TOURNAMENT - 7TH MARCH
On March 7th, the netball team went to Batley Sports and Tennis Centre for the first netball competition of the season. The team played incredibly well, winning three of five games with one draw. The team came in second overall and have made it through to the next round. They showed great teamwork, sportsmanship and were a credit to our school! Well done.
Please click here to read the full sports report from the North Kirklees Schools Sports Partnership.
YEAR 5 PLAYLEADER TRAINING - 1ST FEBRUARY 2017
On Wednesday a group of year 5 children went on a course to learn how to become a good Play leader, here's what Finlay had to say about the day.
"One word, awesome! My favourite place to learn about football and sports, there were other schools there but I liked the school we worked with the most. The four activities we learnt about were netball, cricket (my personal favourite) playground games and boot camp things. After lunch we made our own games, in our group there was Jodie, Maiya, Mohammed and Lewis. Our game was called Fish and Chip! It was Epic."
CHANGE 4 LIFE FESTIVAL - 31ST JANUARY
Yesterday 9 children from Year 1 and Year 2 participated in a sporting festival. This sporting event was to promote different sports and skills to a variety of children across schools in Kirklees.
"It was brilliant! I really enjoyed the mini balance boards we used and the jumping activity." Coby, 2W
"I had lots of fun. I really enjoyed the obstacle course." Ethan, 1MH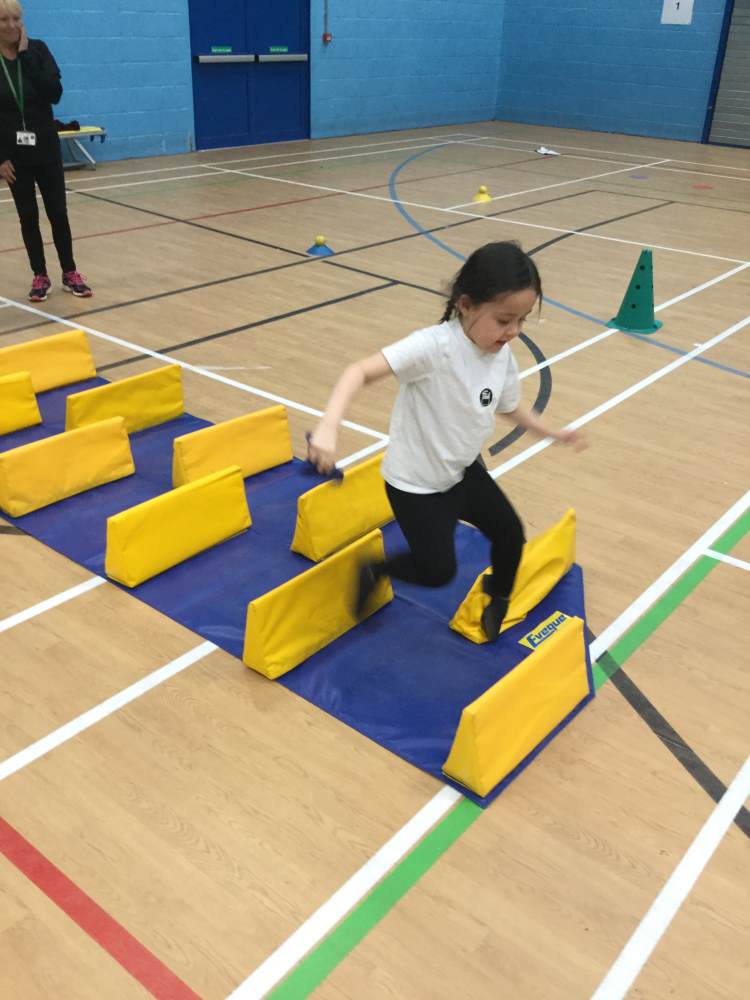 NETBALL TOURNAMENT- 24TH JANUARY
Well done to the 12 participants that went to Batley Sports & Tennis Centre on Tuesday to take part in a friendly netball tournament. The children represented the school well and they also received some coaching for an upcoming netball event.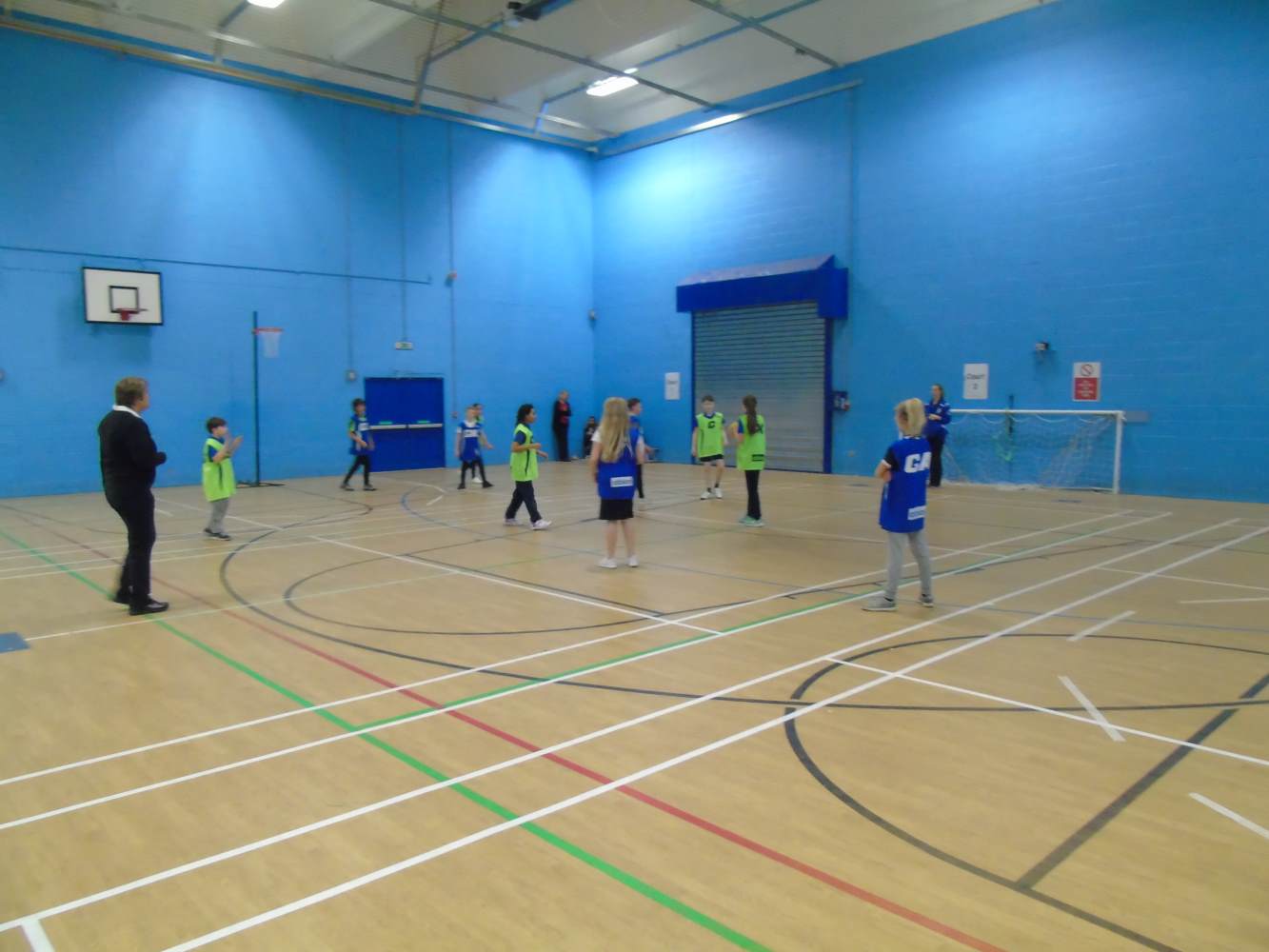 PROJECT ABILITY - 24TH JANUARY
On Tuesday 24th January some children from Year 3 went to Batley Sports & Tennis Centre to take part in 8 sporting activities with other schools from Kirklees. These activities included running, javelin, speed bounce and chest passes. They finished the afternoon off with an exciting relay race.
Thomas said "We had a really good time!"
Rueben said " i enjoyed javelin the most!"
YEAR 6 ATHLETICS COMPETITION - 17TH JANUARY
"On the 17th January, some members of Year 6 went to an indoor athletics competition.The events we participated in were javelin, speed bounce, running, chest push and jumping. The best part was the javelin, mostly because we were good at it but also because we had lots of fun!"
By Kayleigh, Year 6 "After winning the previous athletic tournament at Batley Sports & Tennis Centre, we were to compete in the second round. The top two teams would progress through to the West Yorkshire Finals at Leeds Road Sports Centre. It was all to play for. After warming up, we were pumped up. We had a steady start coming third in the first two races. Then the boys went upstairs to do field events whilst the girls carried on with the races.After some strong field events from the boys and some strong running from the girls (including a dramatic final race), we grabbed a well deserved bronze medal. We were delighted with our team performance and our great bronze medal."
By Noah, Year 6
YEAR 3 DODGEBALL - 6TH DECEMBER
On Tuesday afternoon, six children from Y3 went to the sports centre to take part in the very first Dodge-ball competition. They played 9 games against other schools from the local area and dodged, dived and ducked! The children showed great sportsmanship, great teamwork and we should be very proud of them.
"I really liked it and it was lots of fun!" - George
"I had so much fun." - Lydia
"I've never played dodgeball before and it was great to learn how to play" – Alfie
ATHLETICS TOURNAMENT - 15TH NOVEMBER
On Tuesday 15th November, a team of our Year 5 and 6 children took part in Sports Hall Athletics tournament, this was organised by our school sports partnership. Our children took part in both track and field events, and were superb representatives of our school. Each event collected points and our team came first! Well done!
"We enjoyed our day at sports hall athletics at Batley Sports Centre...and are already looking forward to going to the finals! We won 8 races and lost 4. It felt good to be doing it for the school. It was exciting. We felt frightened when they were announcing the winner. There were 4 other schools. It was fantastic!"
By Archie, Charlie & Rosie Year 5
Y5/6

FOOTBALL TOURNAMENT - 15TH NOVEMBER
Last night our Year 5/6 football team participated in a Batley schools football tournament, at St. John Fisher's high school. We are proud to report the team came top of their group, drawing two games and winning another. Undeservedly, they were knocked out in the next round on penalties after drawing the semi final match 2-2.
Well done boys!
CROSS COUNTRY FINALS - 12TH OCTOBER
On Wednesday 12th October, a few teams for Windmill went down to Leeds Road Training Ground to take part in the Cross Country Kirklees Final. I was an individual runner so it was even more nerve- wracking. On that day, it was very miserable and damp already but when it started pouring it down, it got slushy and horrible. It was that bad, we had to go in the Sports Barn. I just wanted it to be over and done with. When it finally stopped raining, we headed outside to start. We cheered everybody on and eventually it was my turn. My hands started to shake as I ran to the start line. I was ready. Bang! We were off. The squelching under everyone's feet made the mud splash up on every one. I tried my hardest and did really well. We represented our school well and we had a fun day.
Lennon Y5
CROSS COUNTRY QUALIFIERS - 27TH SEPTEMBER
On Tuesday we went to Batley Sports Centre to compete in a cross country competition. Year 3 and 4 ran 1000m and Year 5 and 6 ran 1500m. Windmill had 57 children competing. It was really tiring but we still kept on going. We raced against many other schools and we all did really well. We got Gold and Bronze in the Year 4 Boys race. It felt very challenging but it was great fun. We would do it again.
Tye and Finlay (Year 4)
All the children tried so hard and never gave up. We are very proud of each one of them. Well done Windmill.
Miss McLeod